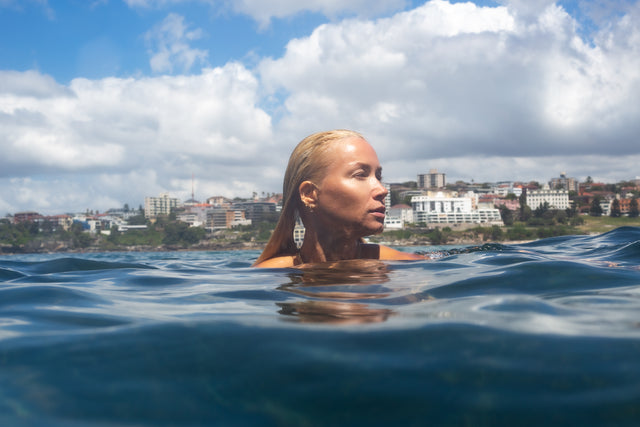 How to do the work with Caroline Groth
My soul mission with this series is to explore how women stay wild in today's landscape, whilst doing the eternal juggle. You know, mum now, friend later, work in between, be a good person to everyone and never drop any of the plates you have spinning 24/7... you know, all that jazz.
As I am typing this, I can feel my nervous system getting triggered, so it feels appropriate to be speaking to someone who has made a career out of wellness. Caroline Groth is an entrepreneur, a wellness advocate, and a certified integrative nutritional health coach with a huge passion for sharing her journey and its learnings. 
Hailing from Denmark, Caroline Groth landed on our shores just over 12 years ago, and calls the iconic Bondi Beach home. Having packed a whole lot into her life, she vulnerably shares the good and the sometimes tough, as she navigates life, relationships and her health holistically. 
Her ethos is to nurture her body and mind, inside and out and to move thoughtfully in every way and in our chat, we openly discuss the importance of doing the 'work', her approach to healing after trauma, self love and building a life outside of your past. Cause we all have one right?
 We also touch why having a consistent morning routine has been crucial for optimising her mental health and how she handles what is thrown her way through the day. It's got real Robin Sharma vibes about it and I am so here for it.
Caroline and I also shot together for Wildfemmes, and we had a magical experience mermaiding around together off the North Bondi rocks, in NSW.  When I showed her the imagery she was really taken back, and said in the water she felt truly feminine, and it made me think about the tug-of-war we sometimes experience between our masculine and feminine selves. And that there needs to be a balance there too to feel our authentic selves. And that's why I love this series - the women I connect with provoke intentional thought, and new perspectives bringing to the surface an awareness I may not have had before. 
And I hope, by sharing their stories it can have a profound effect on you too. 
Caroline's episode is live now and available everywhere you love to listen.
Stay wild,
Emma x